The Malaysian Government has allocated more than RM1bn (US$237m) to turn the National Sports Complex in Bukit Jalil, Kuala Lumpur, and its surrounding areas into a Sports City.
According to a Malaysian Ministry of Youth and Sports spokesperson:
The purpose of the project is to help make the NSC area a popular spot for tourists and people in general.

At the moment the facilities and the area draws crowd only when there are major sporting events.

Except for the flea market at the Putra Stadium, which is fairly commercialised, the other facilities only generate revenue only when there is a major sporting event.
Works at the National Sports Complex include the upgrading of the Bukit Jalil National Stadium along with a sports museum and hall of fame to honour the sporting greats of Malaysia. Other work includes upgrades to the site's football, indoor and hockey stadiums; and the squash and aquatic centres.
Malaysia's Youth and Sports Minister, Khairy Jamaluddin, recently announced that the major upgrading and construction works would begin before the end of the year, with a builder appointed to carry out the project through an open tender process by Unit Kerjasama Awam Swasta (UKAS) of the Prime Minister's Office.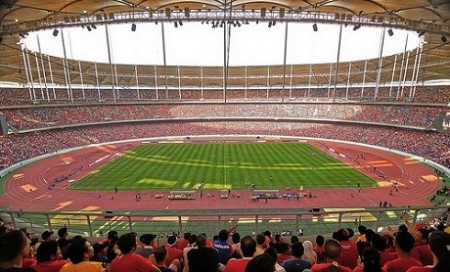 Minister Khairy explained:
The tender process for the project is completed and the Ministry is looking forward to seeing Bukit Jalil become a Sports City.

There are many works to be done including building a new international convention centre, as well as another indoor arena at the site because the current Putra Indoor Stadium is always fully booked with events.
Khairy, who is also the Umno Youth chief, said besides building two new infrastructures, the Bukit Jalil National Stadium would also be upgraded in the RM1bn project.
With a capacity of 87,000, the Bukit Jalil Stadium was built for the 1998 Commonwealth Games.
Images: Malaysia's National Sports Complex (top) and the Bukit Jalil Stadium (below).
See more at: http://www.ausleisure.com.au/news/