Metricon Stadium's recent release of its new free Stadium App has helped maximise the venue's new high-density Wi-Fi, delivering customers the connectivity they desire and a more immersive fan experience.
In August last year, the Gold Coast SUNS, along with global information and communications technology giant and Club partner, Huawei, announced that it had become the first Wi-Fi connected stadium in Queensland.
Launched in March, Gold Coast SUNS' Chief Executive, Andrew Travis, said that the stadium app was the next evolution of maximising this platform, as he advised:
Our unique stadium model has helped us lead the way with our match day experience, and this now gives us the opportunity to extend that into the digital experience with match day information, news, ticketing upgrades and exclusive offers, that will only be offered through the app.
Travis said the smart stadium solution, powered by Huawei, enables the 27,500-seat stadium to take a quantum leap in terms of fan experience.
Travis added:
Stadiums must offer more than just the live game experience, and when competing with the comfort and convenience of the home environment, it's important we stay ahead of the game and find additional ways to better understand our fans and build a deeper relationship with them, which in turn will drive customers back to the stadium.
Huawei Australia Chairman, John Lord, said there were exciting times ahead for SUNS fans with Metricon Stadium becoming the first fully connected smart stadium in Queensland:
Following successful deployments of Huawei's Agile Stadium Solution in Europe, we are very proud Metricon is our first stadium in Australia and has now become the first fully connected smart stadium in Queensland.

These are exiting times for GC SUNS fans as our high performing and high-density Wi-Fi network provides excellent service for tens of thousands of spectators and reaches speeds far beyond the industry average.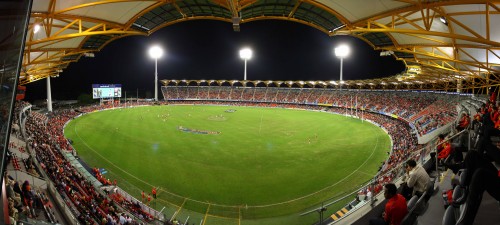 Huawei's Agile Stadium Solution is implemented by partner Fujitsu Australia and specifically tailored to large stadiums. The innovative technology includes world-class 3D planning tools within the Wi-Fi designing and programming to provide a high quality, secure and stable experience.
Since rolling out its Agile Stadium Solution in 2012, Huawei has been operating wireless network projects for sports stadiums worldwide. To date, Huawei has deployed Wi-Fi networks in more than 20 famous stadiums worldwide, such as: Germany's largest football stadium, the 81,359-capacity Signal Iduna Park home of Borussia Dortmund (BVB); the Amsterdam ArenA, home of Ajax Amsterdam in the Netherlands, which has a capacity of 53,502 for football matches and 68,000 for concerts if a centre-stage setup is used; as well as national stadiums across the globe. Huawei also partnered with digital sports content provider FanPlay to provide streaming video in the UK, starting with Glasgow Rangers' Ibrox Stadium in Scotland.
Huawei is a leading information and communications technology (ICT) solutions provider serving 45 of the world's top 50 telecom operators. In Australia, Huawei creates over 800 jobs and works with all major Australian operators. Half of the Australian population already use some sort of Huawei product for their telecommunications needs. Huawei's products and solutions have been deployed in over 170 countries and support the communications needs of one third of the world's population.
The Gold Coast has twice been voted the AFL fans' season favourite for match-day experience.
Source: Australian Leisure Management magazine.
Australian Leisure Management magazine is an Official Media Partner for our Stadia & Arena Asia Pacific 2016 conference and exhibition.
@StadiaArenaAP #StadiaArenaAP @PanStadiaArena #PanStadia