The NSW Government has acquired ownership of Sydney's ANZ Stadium for a reported sum of A$220m.
As part of its plan for the upgrading of Sydney's major sporting venues, the NSW Government is buying out the final 15 years of the venue's ownership from Infrastructure Capital Group which is majority-owned by AFL Chairman Mike Fitzpatrick.
The deal sees the Stadium Australia Group (SAG) continue to oversee daily operations at the stadium, headed by Chief Executive Daryl Kerry.
The new deal paves the way for the NSW Government's planned A$700m project to turn ANZ Stadium into a permanent rectangular venue and for the venue's management to merge with the Sydney Cricket and Sports Ground Trust to create a new major venues management agency for Sydney.
SAG had reportedly sought to offload its lease to the NSW Government for A$100m in 2013.
Announcing the purchase, NSW Premier Mike Baird stated:
(this) does enable us, by purchasing, to have as much flexibility as we can to develop the best possible facility.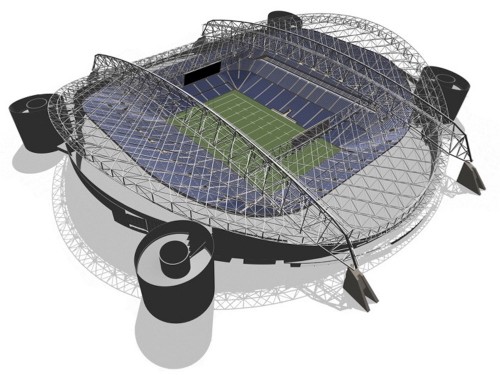 Previously, the NSW Government had faced the dimenna that the ANZ Stadiums' owners had no incentive to invest in the venue with it set to eventually revert to Government ownership.
As former NSW Sports Minister Graham Annesley explained:
The Government was caught in a Catch 22.
Annesley was quoted in the Sydney Morning Herald as stating:
If we didn't invest in the former Olympic stadium by the time it came back to us in 2031, we would have been taking back an asset which was ready for the bulldozer.
The cost of the purchase of ANZ Stadium is in addition to the NSW Government's A$1.6bn plan to rebuild the Parramatta Stadium, ANZ Stadium and Allianz Stadium.
The custodian of the lease is the Sydney Olympic Park Authority who has played no part in the negotiations between the NSW Government and the Infrastructure Capital Group.
In February this year, Stadium Australia Operations was named as the "preferred respondent" to manage the new Perth Stadium.
Lower image shows the planned redevelopment of ANZ Stadium
Images: Australian Leisure Management magazine
See more at: http://www.ausleisure.com.au/news/nsw-government-buys-back-anz-stadium/#sthash.Tr5qWrIJ.dpuf
Australian Leisure Management magazine is an Official Media Partner for our

Stadia & Arena

Asia Pacific 2016 event, being held at the Yokohama Arena this September, 26-28. To guarantee your place, visit the website at: www.saevents.uk.com
Jason Hill, General Manager, Sydney Cricket & Sports Ground Trust, is just one of the 50+ industry-elite speakers who will be imparting their wisdom at

Stadia & Arena

Asia Pacific 2016.
@PanStadiaArena
#PanStadia
#StadiaArenaAP